Description
Wind turbine generator 600w max wind 
generation 5blades , low start up wind speed , used for land& marine, Combine with wind solar hybrid controller.
Please leave a message about whether you need DC12V or DC24V?
Wind is in nature inexhaustible energy, but also not pollute the environment is one of the energy. Changeing the wind energy to power energy is used in industy production and normal life,which is human ideal energy acquisition modes.This Wind Turbine Generator includes a high efficiency motor to get the most from the turbine.This turbine comes with one of the best warranties in the industry.
This wind generator turbine is small yet versatile turbine and can produce up to 600 Watts Max.  It features a special coating that protects the generator, making it suitable for locations. The turbine begins to supply power in wind speeds as low as 15m/s
Model Name
SSF-400
Max power
600w
Rated power
400w
Rated DC voltage
DC 12V/24V
Rated current
33A/17A
Rated speed
900r/m
Number of blade
5pcs
Starting wind speed
2.5m/s
Cut-in wind speed
3.5m/s
Rated wind speed
12.5m/s
Engine
Three-phase permanent magnet generator
Rotor diameter
1230mm
Blade material
Carbon fiber
Output line anti-winding device
Overall three-phase commutator
Over-speed wind protection
Tip stall protection + turned protection + Electromagnetic brake
Life span
15 years
Equipment surface protection
Aluminum oxide + plastic coating
N.W
8.5Kg
Package dimension
68cm*36cm*21cm
Product Description
Series controller

Voltage regulation

Automatic detection of voltage

PWM control

Multistage charging technology

Current compensated load disconnection

Automatic load reconnection

Temperature compensation
Electronic protection functions
Overcharge protection

Deep discharge protection

Reverse polarity protection of load, module and battery

Automatic electronic fuse

Short circuit protection of load and module

Overvoltage protection at module input

Open circuit protection without battery

Reverse current protection at night

Wind-turbine auto brake and brake switch for manual operation

Battery overvoltage shutdown
Installation step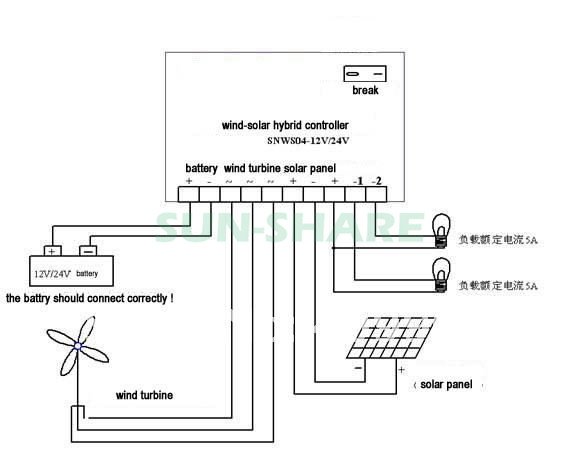 Parameter
Wind turbine power
400 W 12V/24V
Solar rated power
200W/12V 300W/24V
Rated Battery Voltage
12 V/24V
Wind turbine power Max.
600 W
Wind turbine current Max.
40 A
Over-charge Voltage
14.5V/12V; X2/24V
Over-discharge Voltage
10.8 V/12V; X2/24V
Method of control
PWM
Free-load lost power
less than 6 mA
Voltage lost on charging
less than 0.26V
Voltage lost on discharge
less than 0.15V
Display
* Red-LED show battery voltage status
* Night-LED show device DC power output
* Charge-LED show system charging status
Protection Mode
Solar cells reverse charging, solar cells anti-reverse connection, battery over-charging, battery over-discharge, battery anti-reverse connection, over-load, Load anti-reverse connection, wind-turbine current limited, wind-turbine rotation limited, manual brake switch equipped.
ambient temperature
-25 – +55
humidity
<85% RH without condensation
Dimension
190mm x 150mm x 65mm
Weight (kgs)
1.2 kg
Above is our standard model designed. Welcome your special requirement as necessary, we would like to do re-design and configuration adjust for your expectation accordingly .
1piece wind turbine (5 blades)
1piece wind solar hybrid controller 
Remark: Every  buyer should in charge of the import tax fee, so pls tell us the value should be written in invoice