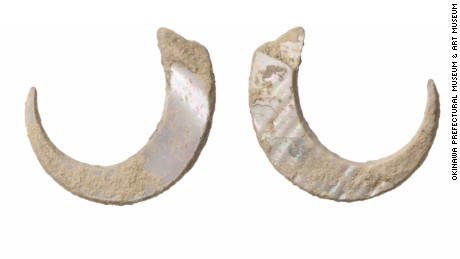 (CNN)They could almost pass for a pair of ancient earrings.
But instead, researchers have discovered the world's oldest fish hooks. And it's led them to suggest that maritime technology developed in Asia-Pacific much earlier than previously thought.
In
a study
published in the journal
PNAS
, the researchers describe how the 23,000-year-old fish hooks, found in Sakitari Cave in the southern end of Okinawa Island in Japan, were meticulously shaped out of sea snail shells.
They are believed to be older than fish hooks found in Timor, dating back 16,000 years and ones found in Papua New Guinea, dating back 18,000 years.
The 'most delicious' crabs
It was previously thought that early humans would have had difficulty surviving for long periods of time on what was considered a resource poor island. However, the fish hooks were unearthed among other artifacts including beads and tools, as well as charred frogs, birds and eels, which our ancestors would have eaten.
"Our findings suggest that Paleolithic people had adapted their maritime technologies to live not only in Wallacea and Australia, but a much wider geographic zone," said Fujita.
Next up, the researchers hope to shed light on some older remains they found while excavating.
"We found fish and human bones that dated back some 30,000 to 35,000 years," Fujita said.
"We don't know what kind of tools were used to catch these fish, but we're hoping to find some even older fishing tools."
Read more: http://www.cnn.com/2016/09/19/asia/japan-okinawa-worlds-oldest-fish-hooks/index.html