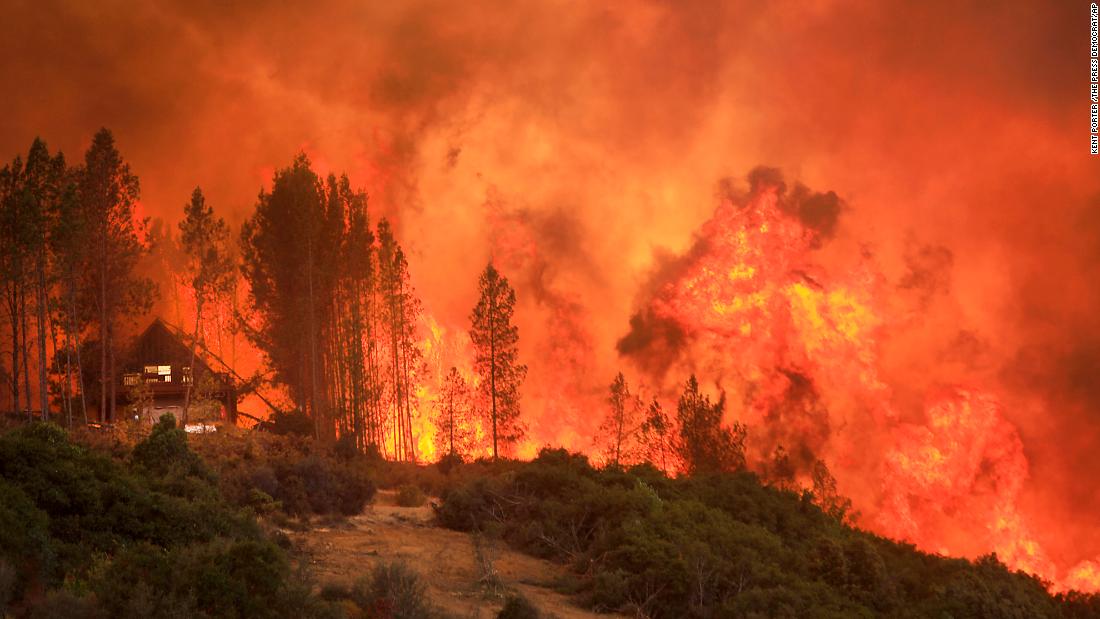 (CNN)There are 107 large fires raging in more than a dozen states nationwide — a majority of them in Alaska.
At least nine of the major fires burning nationwide are in California, where a man is suspected of arson in a fire that has charred more than 4,000 acres at th
e Cleveland National Forest
. Forrest Gordon Clark, 51, is jailed in Orange County on suspicion of two counts of felony arson, one count of felony threat to terrorize and one count of misdemeanor resisting arrest,
CNN affiliate KABC reported.
Here's what happens in suspected arson cases:
Arson cases can be hard to prosecute
Arson is described as the malicious and intentional setting of fires. With some fires erupting accidentally at locations such as campsites and homes, prosecutors must provide evidence that the suspected arsonist started a fire with the intention of harming and destroying.
While witnesses to arson are rare and motives difficult to identify, it's equally as hard to pinpoint the origin of the fire, making prosecution even more complicated, the Federal
Emergency Management Agency says.
"Arson is unique in that the prosecutor must not only prove that a crime was committed but also disprove other possible explanations by eliminating all accidental causes," it
says.
But in 2009 in Minnesota, a volunteer firefighter ignited a field while shooting fireworks, and witnesses took down his license plate and called 911.
He was convicted two years later and sentenced
to 80 days in jail and ordered to pay $70,000 in restitution, officials say.
Some arsonists get death sentences
Sentences for arsonists depend on how much destruction the fire has caused and whether there are deaths involved.
In one instance, a California jury convicted an arsonist on five counts of first-degree murder and two counts of arson for a 2003 fire in San Bernardino that left five people dead. The blaze burned
nearly 92,000 acres and destroyed
hundreds of homes in nine days.
The arsonist started the fire by throwing a lit flare from a vehicle, and in January 2013, nearly a decade after the fire, the death sentence was handed down.
Between 2010-2014, about 23% of wildfires reported in the US were a result of arson, according to the Department of the Interior.
Others get years in prison
In California, arson that causes bodily injury is a felony punishable by state imprisonment for five, seven, or nine years, according to the California legislature.
"Arson that causes an inhabited structure or inhabited property to burn is a felony punishable by imprisonment in the state prison for three, five, or eight years," it says. "Arson of a structure or forest land is a felony punishable by imprisonment in the state prison for two, four, or six years"
Aggravated arson comes with the most severe punishment — 10 years to life in state prison.
Arsonists can be ordered to pay millions
In Oregon, a judge ordered a teen who pleaded guilty to starting a wildfire last year to pay $36 million in restitution for the fire damage.
The teen said he tossed fireworks in the woods while hiking in September, according to court documents obtained by CNN. One of those fireworks ignited, sparking a massive blaze that burned more than 48,000 acres. The teen was 15 at the time of the incident, and was not named because he's a minor. If he cannot pay the millions in full, he was ordered to establish a pay schedule.
Read more: https://www.cnn.com/2018/08/09/us/california-arson-fires-what-happens/index.html