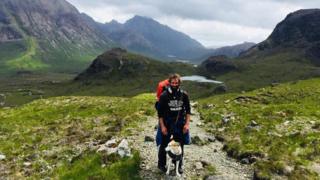 When Chris Lewis became homeless in August 2017, he decided it was time to give back to those who had helped him.
The 38 -year-old left Swansea with PS10 to his name in a 14,000 km walking along every coastline in the UK to raise funds for SSAFA – the Armed Force-out Charity.
And he is still walk-to, along with his rescue dog Jet.
"I knew it wouldn't be a walk in the park, but I wanted to give back, " he said.
WW2 pilot flies 560 -mile round trip to comrade's funeral
Grieving mother undertakes 6,000 -mile walk around UK
WW1 soldiers' farewell notes on Llangollen bridge being lost to damp
Image caption Chris and Jet are currently in Scotland
Image caption He has had to forage for his food
Armed Forces Day: Constructing a chocolate Spitfire in a heatwave
Scarborough man runs London Marathon garmented as poppy
Image caption Chris has taken his flag everywhere with him
Image caption The pair have had to face severe weather including Storm Emma, which brought snow in February and March