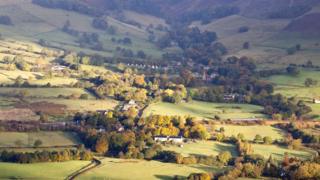 Britain's favourite spot to start a walk is Edale in the Peak District, according to the Ordnance Survey( OS ).
Data from the mapping organisation's app and online service saw the busiest parts of the country for hikers.
At the start of the Pennine Way and within easy reach of Manchester and Sheffield, the Derbyshire village was the most popular starting point.
Travel writer Roly Smith said Edale had "just about everything".
"It's a beautiful hollow, which stands in the shadow of Kinder Scout, the highest part of the Peak District, and one of my favourite places on earth."
Related posts
As consumers grow tired of cheap, disposable items and haul culture, six people tell the story behind the piece of clothing...
Jury could not reach a verdict against Scott Daniel Warren who was arrested in 2018 for giving migrants water, food and...