Description
SHIPS FAST: Order before 12PM EST, M – F, and this item ships the same day!
FREE PRE-PAID RETURNS:30 day returns w/ Free Return Labels
A Real Brick And Mortar Retail Bicycle Shop with people you can talk to!
Contact Us! (8-8 Mon-Fri, 12-4 Sat & Sun EST)
Chat With Us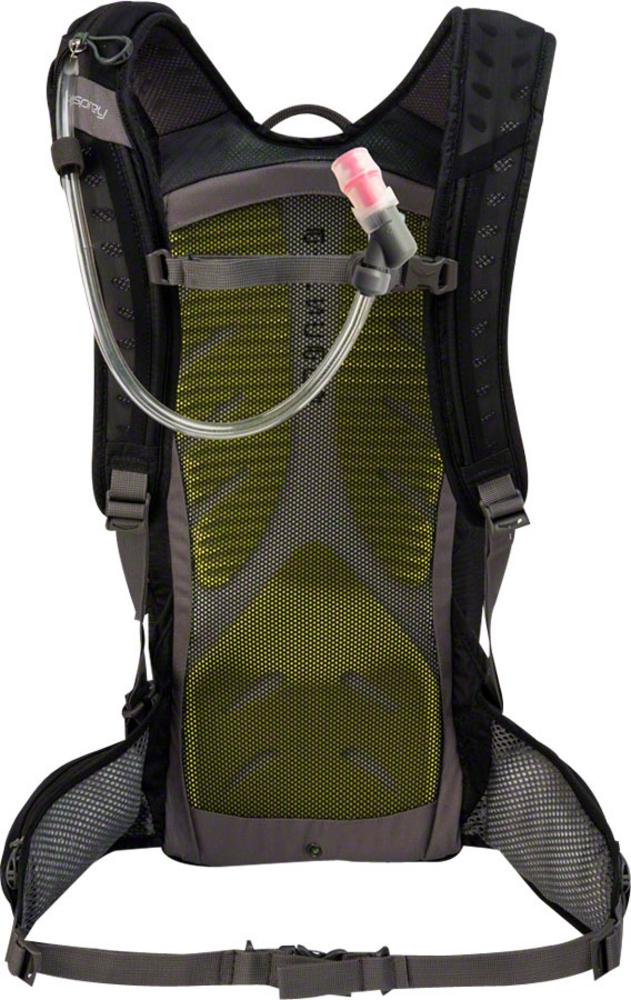 Osprey Raptor 14 Hydration Pack: Black, One Size
Reference Number: 3M62R9
Premium MTB hydration pack with dedicated bike features, great organization, and an excellent fit.
Dedicated lower compartment holds a tool out and removeable tool pouch to organize and find repair items quickly
Dedicated hydration compartment with zippered access allows for fast loading and unloading of the included Hydraulics 3L reservoir
Lid-Lock attaches helmet securely to the outside of the pack
Zippered, scratch free sunglass pocket
Stretch zippered waist belt pockets for on the go access
Stretch front pocket
Blinker light attachment
Magnetic sternum strap and hose connector
BIOSTRETCH harness and Airscape back panel for max ventilation
Item Specifications
Weight
730g
Total Volume
14L
Color
Black
Defined Color
Black
Number of Compartments
6
Reservoir Included
Yes
Back Protection
No
Reservoir Volume (fl oz)
101
Why 365 Cycles?
365 Cycles is an authorized Osprey dealer, and we offer the full Osprey warranty!
Same Day Shipping and Free Pre-Paid Return Labels!
Professional Customer Service- available 7 days a week
Check out our 125,000+ amazing reviews!
Company Culture
365 Cycles grew out of Keene, NH selling bicycle components, apparel, and accessories since 2012. Today we operate multiple brick and mortar stores, in Keene, NH and Lancaster, PA.
We're dedicated to building lasting relationships with our customers, communities, and team members. To earn loyalty in these​
relationships, 365 Cycles is responsive, fair and open-minded. If you need help with component compatibility or have a issue with your order, you can contact our team to have your inquiry resolved within hours. We combine the knowledge and service of a traditional bicycle shop with the convenience of shopping in your own home.
The 365 Cycles team feels lucky to be immersed in the cycling and outdoor industry.​ We owe it all to listening to you. Over the years we have served over half a million customers and we are only getting started. Through listening to your feedback we continue to evolve to become the best place to shop for everyone who rides a bike!
Shipping & Handling
Most orders placed during the workweek before noon ship the same day, but in rare cases (peak season / holiday periods) handling time can take up to 48 hours. If you have questions regarding shipping estimates, please let us know prior to placing your order. There is a direct signature requirement for all orders over $500.
Cut off for SAME DAY SHIPPING- 12:00 pm EST Monday – Friday
Friday afternoon -Sunday orders ship the following Monday
Due to carrier restrictions orders shipped to: PO Box, HI, AK, & PR 365 Cycles may use a comparable service to what was selected.
**Shipments Outside the US** – Customs and import fees are not covered. Orders shipped with International First Class service may take up to 6 weeks. Delivery time on average is 2-4 weeks, but please expect that if US customs or your country's customs clearance delays the package then we ask that you wait a full 6 weeks. Your cooperation with inquiring with your local customs office on its arrival is appreciated.
Combined Shipping Discounts
To offer customers savings on shipping, we offer discounts when shipping multiple items from our store. We cannot issue refunds on shipping once an order is finalized so please follow the 5 steps below and ask if you are having trouble with the discount before you make a purchase.
Be sure you are using the US site: www.ebay.com
Select Add to Cart (instead of Buy It Now) with items from our store 365Cycles
Click on Proceed to Checkout. On the checkout page, the shipping service on each line item needs to match
Compare First Class vs Priority as sometimes Priority can be cheaper and it gets to you faster!
You'll need to change the shipping method to Priority on every item in your cart before the rate can be calculated.
Returns
365 Cycles offers Free Returns for 30 days on new items in their original, intact packaging. Please be sure to read our return policy entirely and if you have any questions, please contact Customer Service.
Full refunds are issued on items that are brand new and we are able to resell as new. 365 Cycles reserves the right to deny returns that are outside of policy including, but not limited to, used items, items missing original packaging or items with damaged manufacturer packaging. You will be contacted through eBay if your return is ineligible for a full refund.
Returns must be initiated within 30 days from purchase date through your Purchase History under My eBay. You will be provided with a convenient and free shipping label to return your item.
If we make an error in shipping, please contact us — we will ship out the correct item and provide a prepaid return label as quickly as possible!
Exchanges
If you need to exchange your order, the fastest and easiest way to do this is to reorder. We will ship your new order immediately and, in the meantime, please initiate a return through eBay on the original item and return it. We will refund for the returned item once it is received back.