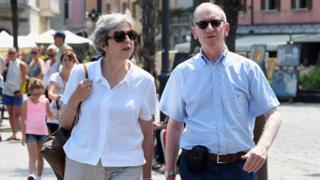 Prime Minister Theresa May has begun a week-long strolling vacation in Italy.
The Conservative leader is fresh from her key Brexit proposal being rejected by the EU on Thursday.
She will return to the UK for a week's work in her constituency and in Downing Street before attending the centenary ceremony of the World War One battle of Amiens and then resuming her break in Switzerland.
Mrs May's trip is a repeat of her holiday itinerary from last year.
The Parliamentary recess schemes of her Conservative colleagues have also been divided on Europe – Brexiteers has significantly chosen to holiday in the UK or US, while Remainers prefer countries in the EU.