Outdoor World
These Rad Bridesmaids Threw A Warrior-Themed Bachelorette Party
In July, bride-to-be Alex Pinkerton and her six bridesmaids headed to Banff, Canada, to celebrate her upcoming wedding. Instead of sporting the usual "bride tribe" T-shirts, they channeled their inner badasses and garmented as warrior women instead.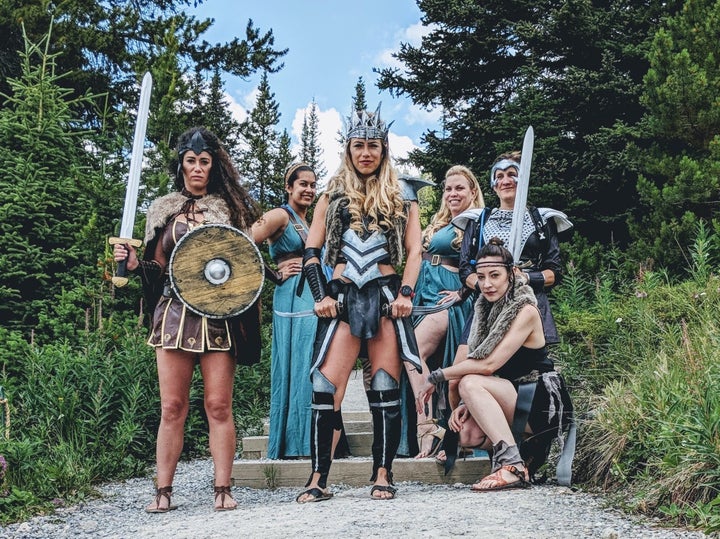 Pinkerton, who live in Seattle, posted some photographs of her friends in their fierce clothe to the Facebook group Pantsuit Nation on Tuesday, writing, "Life is tough. But so are women. Because females should raise up other women. Because females should contend alongside each other and support each other. Retain struggle, ladies! "
The bride-to-be told HuffPost that the topic for the weekend was a response to the current political climate.
"Part of what motivated this idea was how, whenever things have gotten tough, our friends have always had each others' backs. We've talked more and more about family issues, job issues, POC rights, mental health and women's rights lately. It takes a village to stay strong through this. You need to have your girls ready to fight by your back to stand sane."
Several months before the bachelorette weekend, several of Pinkerton's bridesmaids proposed they all get warrior attires for the moment, as an ode to women who are "battling to maintain their rightful region in their environment, whether it be in the workplace or at home." Some purchased the costumes and props online. Others, including Pinkerton, stirred their outfits employing thrift store determines and aircraft skills. After doing a photo shoot in their outfits, the status of women expended the working day walking around Lake Louise, dancing and eating.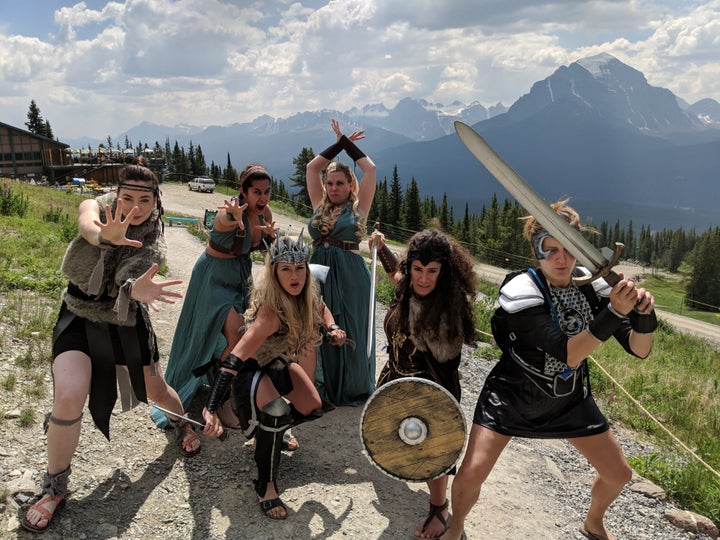 Pinkerton and her sidekicks make it a point to check in with one another often, supporting one another through the ups and downs.
"We believe in the strength of both women and having your warriors behind you to support you through anything you go through, " she said. "We just knowing that strength does not come from dressing up as warriors but from inside and building partnerships you establish in life."
"Also, it turns out it's really fun walking around with fake hair and armor on! " she added.
Pinkerton and her fiance, whom she calls her "loudest cheerleader, " will be tying the knot in Seattle in September.
"But we're definitely rethinking our bridesmaids' outfits after this trip-up! " she said.
Check out more photos from the warrior-themed weekend below: