Outdoor World
What it's like inside a Hong Kong coronavirus quarantine camp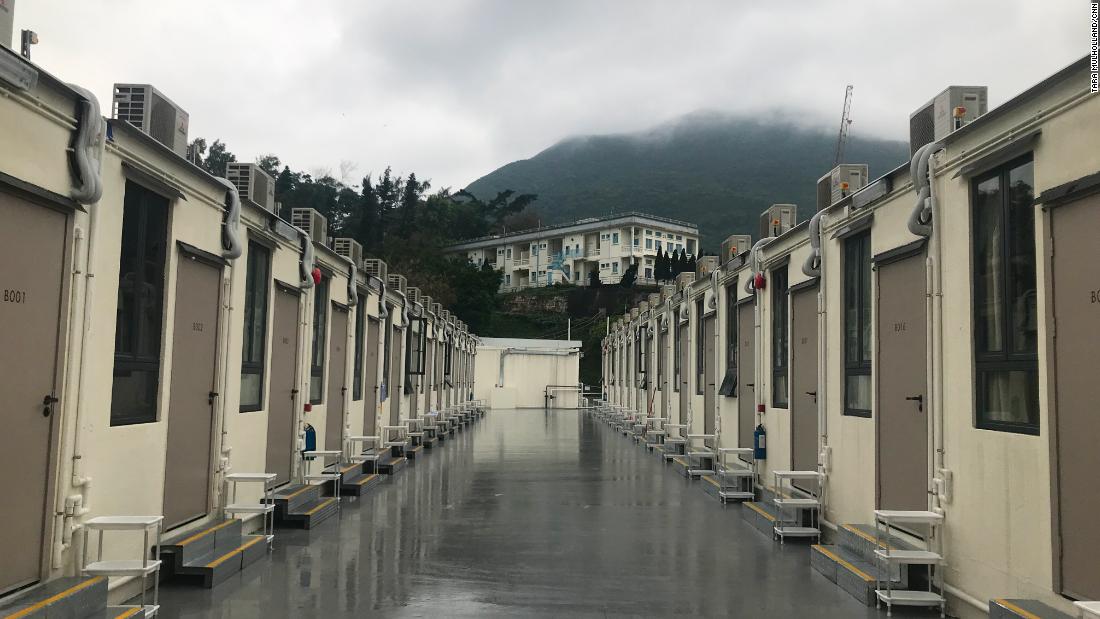 (CNN)If you'd asked me a month ago what I thought I'd be up to on my 30th birthday, being confined to a government quarantine center in Hong Kong wasn't near the top of the list.
For me, it's meant going from
planning
holidays and parties, to being escorted from my apartment by hazmat-suited health care workers and driven to a quarantine facility for two weeks of isolation. For everyone else, it's meant a speedy reassessment of how to respond to a global crisis, on both a personal and societal level — and a new understanding of just how strict the measures to fight coronavirus might have to be.
Holiday camp turned quarantine camp
Life in quarantine — with its regimented meals, temperature checks and PPE-wearing staff — feels like an odd mix of being in school, at camp, and in prison. My facility, in Lei Yue Mun Park, is normally a leafy holiday village in the east of Hong Kong Island. Now, some 100 temporary single-room homes have been constructed in neat rows on an outdoor sports pitch, surrounded by high yellow barriers, housing anyone who the health department decides needs to be isolated after coming into contact with a person who has tested positive for
coronavirus
.
Since March, that number has surged. Until recently, Hong Kong — which had been fighting the spread of the virus since January — appeared to have it under control, with fewer than 10 new cases being recorded each day. It seemed as though the city's swift public health measures had worked, infection rates were staying low, and the mask-wearing, hand-sanitizing population could relax a bit.
But relaxing is not the way to control contagion. Almost as soon as revelers started packing bars, restaurants and hiking trails again, the whispered rumors started growing louder — of infected Hong Kongers fleeing Europe and the US, of symptomless spreaders, of a colleague's sore throat, a friend's dry cough. Soon, the rumors were borne out by numbers: infections rose from 95 cases on March 1st, to 317 on March 22nd. A long-dreaded "second wave" of the outbreak seemed to be bearing down on the city.
I ended up being covid-exposed after two friends tested positive. I had no major symptoms, which meant I couldn't get tested myself. But the health department thought I was at enough risk to be taken away for proper isolation and monitoring, while my mildly-symptomatic friends were taken to hospital for tests and treatment, and anyone who'd had briefer contact with them self-isolated at home.
Not that everything about the quarantine process went smoothly. After being told to pack my bags for a long stay, I ended up self-isolating for a week, with no information about how or when I would get picked up. While quarantined friends sent videos of their journeys, rooms and meals, my daily calls to authorities were met with the same answer — there was a list, I was on it, but there had been a lot of positive cases recently, and there was no way of knowing how long I would have to wait, sorry.
And self-isolation was made more complicated by my roommate, who risked infection just by staying in our apartment — not only was I isolating from my friends and colleagues, I had to stay away from her as much as I could too. We ended up only emerging from our bedrooms to pick up food deliveries, wore face masks and rubber gloves on the way to and from the bathroom, and disinfected everything we touched.
Read more: https://www.cnn.com/2020/04/09/homepage2/hong-kong-coronavirus-quarantine-diary-intl-hnk/index.html